Natural black roofing stone, black slate roof tile pavers decorative stone veneer, slate stone panel
There's a timeless allure to a slate roof. From stately mansions to trendy hotels, buildings adorned with slate project an air of elegance and sophistication. Amongst numerous roofing options, natural roof slates, especially black roof slates, hold an esteemed position, boasting attributes that very few materials can match.
Mankind has long appreciated the value of slate. As a metamorphic rock, slate undergoes immense pressure and heat deep within the earth. This unique transformation imbues it with properties that are hard to find elsewhere. Unyielding yet delicate, slate captures the delicate balance between durability and aesthetics. Its layers, formed through centuries of geological forces, can be split into thin, uniform sheets – the perfect roofing material.
Natural slate roof tiles, especially Chinese slate tiles, possess an array of qualities that make them the ideal roofing solution. Primarily, they are the embodiment of longevity. While other materials need replacing after a few decades, slate roofs stand strong, bearing the brunt of
nature's harsh elements with ease. With proper installation, real slate roof tiles have been known to last well over a century, making them an excellent investment for any property.
In addition to their remarkable durability, black slate roof tiles have another enduring trait – beauty. The dark, inky hue of black roof slates provides a striking contrast against the architectural elements of a building. This stark juxtaposition of colors accentuates features, making them more prominent and engaging. Moreover, slate's natural grain adds a textured, layered effect, lending each slate roof tile an individuality that no artificial roofing material can replicate.
Advantage of Natural stone slates and quartzite
A: No radiation pollution
B: low water absorption
C: rich in veins and various colors
D: natural split and antique surface
E: Low water absorption
F: Fine and freeze resistant
We maintain the natural appearance of stone veins and colors and changeable and reasonable matching of colors, then perfectly display artistic quality of stone and the inner property and so as to be suitable for indoor or outdoor partial decoration.
Our service:
1:OEM, ODM service available
2: Free samples can be supplied for clients
Slate Tiles Sizes
Name

Culture stone, stone panel, stacked stone, stone veneer, ledge stone, slates

Material

Natural stone and concrete

Shape

Square; Corner, L shape, S shape, Z-type

Regular size

300*300mm, 152*610mm(6″*24″); 200*600mm(8″*24″); as per request

Wall Panel: size: 18 x 35cm, 15 x 60cm, 6 x 24″, 8 x 24″or customized.thickness: 1.5-2.5cm, 2.5-3.5cm, etc.

Thickness

20mm; 30mm; 40mm; 50mm or customized

Usage

landscaping decoration and indoor and outdoor wall cladding

Feature

Water and fire-proof; easy to fix and clean, environment friendly,

Delivery time

Sample–about 2-3 days

Order—-about 10-15days Big quantity depends on the quantity of the order

Weight

82kgs/sqm

Color

White, pink, multicolor, black, grey, yellow, rusty etc.

Finishing

Honed; split; stick with cement or glue; mushroom;picked

Package

Plywood pallet or plywood crate, Carton box and wooden crate

Payment

T/T; 40%deposit before production, 60%balance before shipping.

Loading port

Tianjin Xingang, China

Price range

FOB at$15-$68/sqm

Min order

100 SQM

Export Market

European, UK, USA, North America, Australia and Middle East
Products Description
Slate also promises low water absorption, a feature that's crucial in roofing. In damp conditions, materials that absorb water can deteriorate quickly, leading to maintenance headaches. But slate, with its low water absorption, stands up to moisture with ease, ensuring a roofing solution that's as practical as it is beautiful.
No discussion on slate can be complete without acknowledging its environmental credentials. Slate is a natural, non-polluting material. Unlike other roofing options, it doesn't release harmful chemicals into the environment. With increasing emphasis on sustainable living, choosing a slate roof means taking a step towards an eco-friendly lifestyle.
Our slate offering extends beyond roofing. Decorative stone veneer and slate stone panels provide a unique way to bring the charm of slate indoors. Just like their roofing counterparts, these interior design elements radiate elegance, creating an ambiance of quiet sophistication. Their textured, antique surfaces add a rustic touch, while their rich veins and varied colors infuse spaces with a natural, earthy vibe.
Natural stone veneers, in particular, are perfect for accent walls. They're slim and lightweight, making them easy to install. Yet, they possess the visual heft to transform a simple wall into a stunning feature. With their unique textures and colors, they capture the eye and elevate the aesthetic quotient of any space.
Meanwhile, slate stone panels offer an ideal solution for outdoor landscaping. They're perfect for creating walkways or patios that blend seamlessly with the natural surroundings.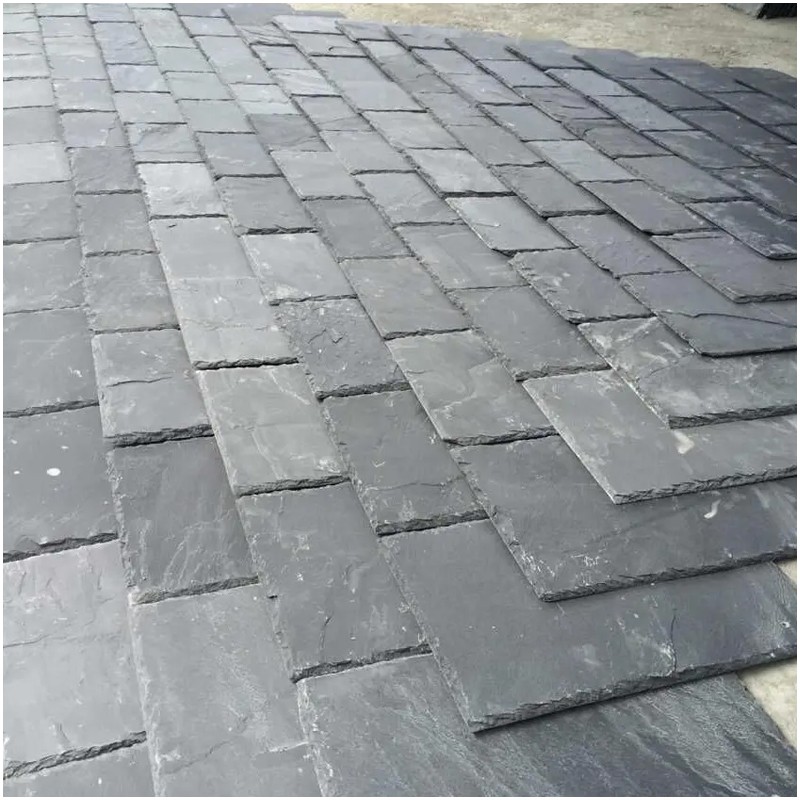 Robust and weather-resistant, they retain their appeal season after season, with their colors and textures becoming more prominent with age.
Chinese Slate Tiles Factory
We own a professional and experienced team for packing and loading.
1) Inner packing: Cartons or foamed plastics(polystyrene).
2) Out packing: Export Standard Seaworthy wooden crated with fumigation.
Well protected for the surface and edges in case crack or edge broken. Foamed plastic padded in the fumigation wooden crates use the strong straps to reinforce.
Xiamen For U Import and Export Co., ltd.devoted to the integration of stone resources. We service clients from the quarry, mining to processing trade and market. With extensive cooperation relationship with major marble quarries, we feature masterful talents with decades of experience in raw marble stones, hardworking and passionate stone purchasers, quality inspection and marketing teams.
FOR U Stone has been in the stone industry for over 20 years. With professional experience, we export stones to all over the world, such as the UK, Austria, USA, Holland, Brazil, the Middle East etc.
In gratitude, everyone in our Xiamen For U Import and Export CO., ltd team thank you for your long time support and our team will do our best service for the U.
1- Product range is wide
For U Houzz in China with a wide range of materials, colors, size
2- Professional Team for sales and QC
A: Experienced sales in the stone field, email reply within 24 hours.
B: our experienced QC will check the products pc by pc before packing and also supervise the container loading.
3–Friendly Customer Service:
Before placing order, we will check all the details with you to confirm everything to avoid any mistakes. And recommend the suitable stone for your projects.
During the production, our QC will check the products in case of any mistake in the factory and follow up the requirement to ensure the quality then packing.
After packing, our QC will supervise the loading
Sales will update the situation for the order until you get the goods.
After service is offered at anytime.
4–Timely Delivery:
The delivery time is strictly controlled according to the agreed time.
5—Guarantee:
For the wrong or broken products that are caused in our part, we will replace or refund them.
In conclusion, slate is much more than just a roofing material. Its inherent properties make it a versatile choice, suitable for both indoor and outdoor applications. Chinese slate tiles, in particular, with their superb geometric consistency, beautiful tonal variations, and fine riven textures, are an architect's delight. They add an element of timeless elegance to any project, whether it's a modern mansion, a cozy home, a swanky hotel, or a commercial building.
Choosing slate is not just about investing in a material; it's about embracing a rich legacy that spans centuries. It's about selecting an eco-friendly option that respects nature and contributes to sustainable living. It's about recognizing the beauty in the raw and the rustic, and allowing it to shine through in our spaces. It's about guaranteeing a strong, resilient, and beautiful building for generations to come.