Brazilian Luxury Cygnus Exotic Quartzite Slabs For Countertops and Wall Tiles Projects
Cygnus Quartzite, a distinctive offering from the reputable FOR U STONE Quartzite Factory, is truly a Brazilian marvel. The brown domination in its color palette, sporadically punctuated with black and white hues, gives the Cygnus Black Quartzite a unique edge in the realm of natural stones. Each piece of Cygnus Granite presents its own story, boasting unique patterns and colour variations that breathe life into any interior design vision.
The beauty of Cygnus(Beauty Musk Quartzite) isn't confined to its visual appeal. It's a testament to the strength and longevity of granite, a material highly prized for its durability and resistance to everyday wear and tear. Low porosity, resilience to heat and stains, and requiring only daily cleaning and periodic sealing, the Brown Silk Quartzite(Exotic Quartzite Cygnus) promises to retain its allure for years to come, even in high-traffic areas like kitchens and bathrooms.
-Unveiling the Charm of Brazilian Exotic Stone in Commercial Interiors With Cygnus Quartzite Tiles and Countertops | FOR U STONE
Cygnus Black Granite- another name of Cygnus Quartzite, which our professional Buyers prefer to name it, with its neutral colour scheme, offers unmatched versatility in matching with a plethora of cabinet finishes and home decor styles. Whether you're envisioning unique paint colours or a more natural wood finish, Cygnus Leathered Quartzite guarantees a harmonious blend that will continue to impress you and your guests for years to come.
Basic Information of Brazilian Brown and Black Quartzite | Granite
| | | | |
| --- | --- | --- | --- |
| Model Number: | Cygnus Granite, Cygnus Quartzite, Beauty Musk Quartzite, Brown Silk Quartzite | Stone Form: | Big Slab |
| Brand Name: | Xiamen For U Stone Imp. & Exp. Co., Ltd. | Granite Density (kg / m³): | 2.64g/cm 3 ~ 2.71g/cm 3 |
| Place of Origin: | Brazil | Stone Name: | Cygnus Granite |
| Surface Finishing: | Polished | Thickness: | 15mm-30mm |
| Surface: | Polished, Honed, Antique | Dimension: | All Sizes, Customized Sizes Welcome |
| MOQ: | Small Trial Orders Accepted | Quality Control: | 100% Inspection before shipping |
| Value-added services: | Free AutoCAD drawings for dry lay and bookmatch | Range of Application: | Commercial & Residential building projects |
| Type of Application: | Flooring, Wall Cladding, Vanity Tops, Kitchen Countertops, Bench | Advantage: | Nice Decoration, Suitable for Large and Small Scale Building Projects. |
The quarry of the Brown Silk quartzite is located in Minas Gerais in Brazil. The deposit of this specially layered natural quartzite stone with pockets of various minerals is a world-unique formation.
Brown Silk Granite can be processed into Polished, Sawn Cut, Sanded, Rockfaced, Sandblasted, Tumbled and so on.
Cygnus Quartzite Slabs And Tiles | FOR U STONE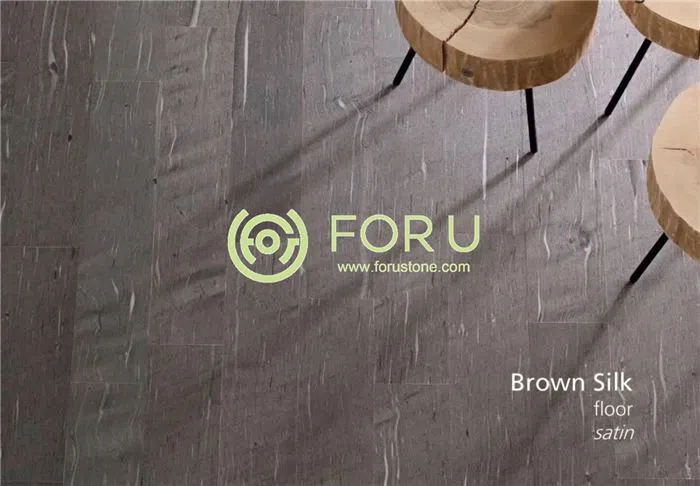 Also known as Brown Silk Quartzite, the Cygnus is an exotic quartzite hailing from Brazil, showcasing a uniform brownish tone with a distinct longitudinal structure. This stone stands out for its incredible suitability for countertops, but its versatility doesn't stop there.
Cygnus Quartzite Slabs can be adapted to a wide variety of interior and exterior applications. These include countertops, kitchen islands, backsplashes, side splashes, flooring and wall tiles, bathroom vanity tops, dining table tops, steps and stair treads, window sills, bathtubs, pool copings, and accent walls. Each application of Cygnus quartzite transforms the space into a dramatic, bold, and beautiful spectacle.
Brown Silk Leathered Quartzite presents a visual feast both from a distance and up close. The crystalline layers of silver and white scattered amongst the dominant brown exude an intricate complexity, much like a spider's silken web. Also known as Leathered Cygnus Brown, Brown Silk is essentially a crystalline constellation that has come to life, and its resistance to scratching, staining, and fading ensures its beauty remains unblemished over time.
Application of Cygnus Exotic Quartzite:
Cygnus Quartzite Leathered Slabs or Polished Slabs can also be applied to a myriad of surfaces such as exterior elevations, bar countertops, outdoor barbecues, wash stations, fireplace surrounds, bathroom floor panels, bathroom walls, butler pantries, hot tub surrounds, bathroom backsplashes, bathroom vanity tops, kitchen backsplashes, kitchen countertops, and more. Immerse yourself in the world of Brazilian Cygnus Quartzite Tiles, and let its subtle charm and durable essence transform your commercial spaces into a testimony of timeless elegance.
Cygnus Quartzite Slabs and Project Tiles Factory
Quality Control
Factory Quality
Triple Inspection System Guarantees Good Quality
First Inspection: Selection raw material.
Second Inspection: Monitoring the whole process.
Third Inspection: Checking pcs by pcs, Color Difference Control.
Well packed to prevent damage during long distance transportation
High solution detailed photos and free samples will be able to verify our quality.
All our products are insuranced. If the tiles are broken during transition, our after sales will sort out the reasons and will sure you'll be properly compensated.
Delivery, Shipping And Service
Packing and Loading about Brown Silk quartzite
Boxes + plywood crates with reinforced straps outside, alternate films between every sheet. Customized Packing boxes are also available.
Pencil 12″x3/4″x3/4″–75pcs/box, 36box/Crates
Chairail 12″x2″x1 1/5″—28pcs/box, 36box/crates
Baseboard 12″x5″x3/4″—10pcs/box, 36box/crates
FAQ
1, What is the location of your company?
Xiamen City, Fujian Province, China.
2, Where is your factory?
1th: Xilan Stone Development Zone, Xilan Town, Luoyuan Country, Fuzhou City, Fujian Province, China.
2th: Xianghuangqi industry zone, Xilin Gol League, Inner Mongolia, China.
3, What is your MOQ?
Our MOQ is usually 100 square meters.
4, What is your delivery time?
Within 15 days after, we receive the 30% deposit.
5, What is the shipping port?
Xiamen.
6, How about the samples?
We could send you the samples but the freight is charged.
After the order is confirmed, we would pay back the express fee.
Please be rest assured of that.
7, Can you do the specially designed products or customer items?
Yes. You can tell us your size or give us your drawing.
If you're interested in our cygnus quartzite, welcome to buy the quality products at an affordable price with us. As one of the leading Quartzite Slab manufacturers and suppliers in China, we also support wholesale service. For more info, contact us now.