Product Details
Products Specification
1. Marble is very fragile, afraid of the impact of hard objects, knocking, so usually should pay attention to prevent iron and other heavy objects knocking stone surface, in order to avoid the appearance of pits, affecting the aesthetic. As long as you use some detergent to clean the surface, you can keep it looking new for a long time.
2. Wipe the surface regularly with a slightly damp cloth with mild detergent, then wipe dry and polish with a clean soft cloth, when the surface is stained with some lighter corrosives such as lemon juice or vinegar to clean the stains, do not use soap or soda and other materials that can easily damage the essence of marble to wipe. Great care should also be taken with lemon juice, which should preferably be left on for no longer than one minute, repeated if necessary, then washed and dried. For cosmetics, tea, and tobacco stains, apply hydrogen peroxide, leave on for two hours, then wash and dry. For oil stains, wipe with ethanol (alcohol), acetone (wood spirit), or lighter fluid, then clean and dry. If marble furniture is burnt by cigarette butts, consider having it restored.
3. For slightly scuffed marble furniture, use special marble cleaner and conditioner; for seriously worn marble furniture that is difficult to handle, use steel wool to wipe, then use an electric polisher to polish it to restore its original luster. For antique or valuable marble furniture should ask professionals to deal with it.
4, oiled marble furniture must be treated with a paint stripping agent, and in accordance with product instructions. Once all the paint has been removed, wipe down with steel wool and buff with an electric polisher.
Basic Info
| | |
| --- | --- |
| Brand Name: FORU STONE | Usage: Outdoor |
| Model Number: Marble Slab Tiles | Product name: Blue Star Grey Marble Slab |
| Warranty: More than 5 years | Core material: Marble Slab |
| After-sale Service: Online technical support, Return, and Replacement | Aluminum Thickness:0.1-0.5mm |
| Project Solution Capability: total solution for projects | Surface Treatment: Brushed, Mirror, PE Coated, Printing, PVDF Coated, PE, PVDF, natural stone marble/granite or porcelain |
| Size:2500mm*5000mm | Coating: PE PVDF |
| Application: Office Building/lamp grill/light barrier | Function: Anti-Static, Fireproof, Mould-Proof, Fireproof, less weight |
| Design Style: Modern | Panel thickness:10mm-100mm |
| Place of Origin: China | |
Product Details
Quality Control
Our quality control system includes automatic detection and manual inspection, we adopting a leading international technology. We have an experienced QC team with more than 20 people.
They will carefully detect the stone quality and specification piece by piece, monitoring every
production process until packaging is complete, to ensure product safety into the container
1. Quality Control: Check One by One Slab, Accept quality full inspection from the customer side.
2. Quality Checking: Free Samples Provide & Welcome Visiting Factory, Showroom
3. Quality Approved: CE & SGS & ISO9001 Certificates.
Packing and Loading about Blue Star Grey Marble Slab
1. Packing: white Carrara marble slabs would be inspected by our QC firstly, after the quality has been approved, we will clean the surface then put them on the wooden bundles. Usually, it is 15 pcs/pallet. We will add rebar between the bundle to strengthen the steady pallet.
2.Loading: We will use a machine to put the bundles into the container carefully, usually one 20'GP container can load 8 bundles. After loading, strong bundles will be added between each bundle to make they are steady during transportation.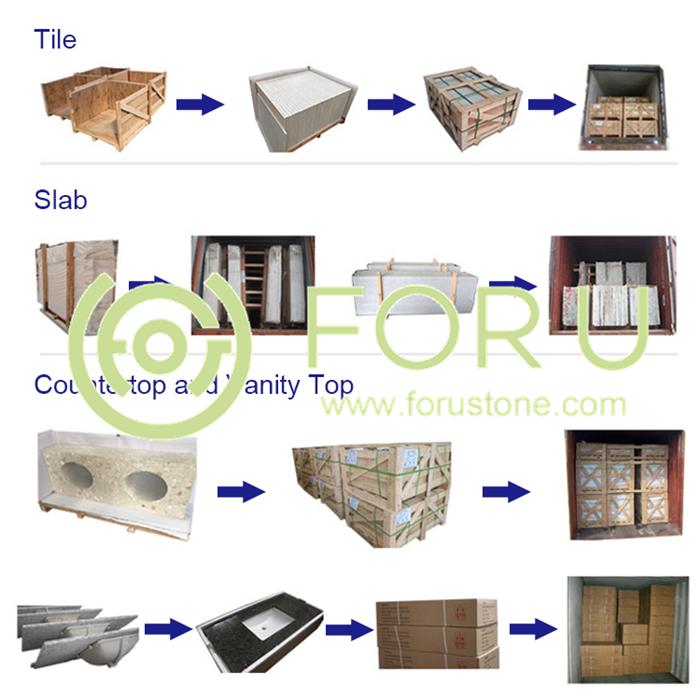 FAQ
1) Q: Is your stone real and why is it so inexpensive?
A: All the stone products sold by our company are genuine stone, produced from natural rock and are first quality. We are able to sell at such low prices because our material gets from the quarry directly.

2) Q: How do I obtain samples?
A: For samples, we only charge for the courier cost of the samples which can be ordered DHL, UPS, TNT OR FedEx ground or FedEx Expedited. The rate will be calculated based on your address and the number of samples you order. We can return this courier cost if you order the above two containers. Payment can be made by Western Union or Wire Transfer(T.T)

3) Q. May I check the quality before the shipping?
A: yes, welcome. you can come here or you ask you're some of you friend in china to check the quality, then we ship it

4) Q: Is it possible to keep cargos the same color as the sample?
A: No, the stone is a natural material with naturally occurring variations in color, tone, granularity, pattern, etc, be allowed color Tolerance & Pattern.
If you're interested in our blue star grey marble slab, welcome to buy the quality products at an affordable price with us. As one of the leading New Marble manufacturers and suppliers in China, we also support wholesale service. For more info, contact us now.