Crystal White Marble Polished Floor and Wall Tiles For Interior Decoration
Crystal white marble tile is a kind of marble, which is a better decorative stone, suitable for internal and external decoration in homes, units, public places, etc. The 12 x 24,24″x24″, 12″x12″ Polished Crystal White Marble Tile will enhance the appearance of any interior space.
Vietnam Crystal White Marble is one of the perfect choices A valid status symbol. Vietnammarble is imported from the country. Vietnam is pure white, and the patterns
and colors of the lining are abundant. Vietnam Crystal Thassos Marble Tile is a natural color that gives a long-lasting shine and adds beauty to any interior of commercial estate projects. Because of the White Crystal Marble Tile coloration and veining, no two pieces are the same, allowing you to customize the look while also making a statement that no one else can match. With Pure White Crystal Marble, you can give your property an attractive look.
Crystal White Marble Floor Tile in 12″x12″ is a typical white tile with a polished gloss that gives it a refined, traditional appeal. Crystal White Marble Flooring is best used as a countertop for indoor and outdoor use. It's also suitable for floor, wall, or ceiling tile use.
A Wild Range Application of Crystal White Marble | FOR U STONE
This Vietnam white crystal marble tile is widely used in offices, industries, schools, hotels, and other industries due to its fancy appearance, long-lasting luster, and wears resistance. This pure white marble comes in various sizes, designs, and patterns.
What is the Crystal White Marble From Vietnam?
This white marble is famous for its brilliant white finish. As such, it is preferred by many homeowners. This marble comes in various colors, sizes, designs, and patterns suitable for floors, tabletops, countertops, etc., adding beauty to your home. When used as a kitchen countertop, this white marble hides stains and other damage without compromising its beauty.
The elegance, beauty, and rich appearance of this marble are unrivaled. Here's what one piece of gorgeous white marble can bring to your home. For several other reasons, this white marble is popular with many designers and homeowners, especially floorings.
Why Choose Vietnam Crystal White Marble?
The Vietnam Pure White Crystal Marble is beautiful and one of the whitest stones in the world. The best Vietnam White Marble is a distinctive white marble quarried in Vietnam. It is also a calcite, the same as Makrana Marble. The Vietnam White Marble is the highest quality imported marble. Its popularity never wanes. It works great on all marble slabs and can be installed in different locations without hesitation.
Vietnam Pure White Marble Tile is widely used for residential floors, temples, statues, and wall cladding. The appearance after installation on the floor or wall is simply beautiful. It is characterized by its pure white and glossy luster. These qualities correspond to international standards. The rustic look, natural beauty, and environmental friendliness make the natural stone the perfect material.
Basic White Marble Tiles Size information | FOR U STONE
Product name
Vietnam Crystal White Marble
Color
pure white
Product Style
Slabs, Tiles, Cut-to-size, Countertops, Vanity tops, Stairs & Risers, Paving cubes, kerbstones, tombstones & monuments, etc.
Regular Size Tiles
305x305mm, 300x600mm, 305x610mm400x400mm, 457x457mm, 400x800mm
600x600mm, 900x900mm, Or another size according to the customer's request
Thickness
1.8cm, 2cm, 3cm, 4cm, 5cm, 6cm etc
Finished
Polished, Flamed, Honed, Bush Hammered, Flamed & Brushed, Sawn-cut, Sandblasted, Chiseled, Mushroom, Water Jet, etc.
MOQ
100 m2
-Vietnam Crystal White Marble is suitable for any floor of residences and commercial building lobbies, and hallways.
The color of this pure white marble is pure white and is considered the whitest marble in the world. Most designers and homeowners consider this marble to be the best. Therefore, this natural stone is always in high demand.
White Marble Project Cut-to-Size Tiles | FOR U STONE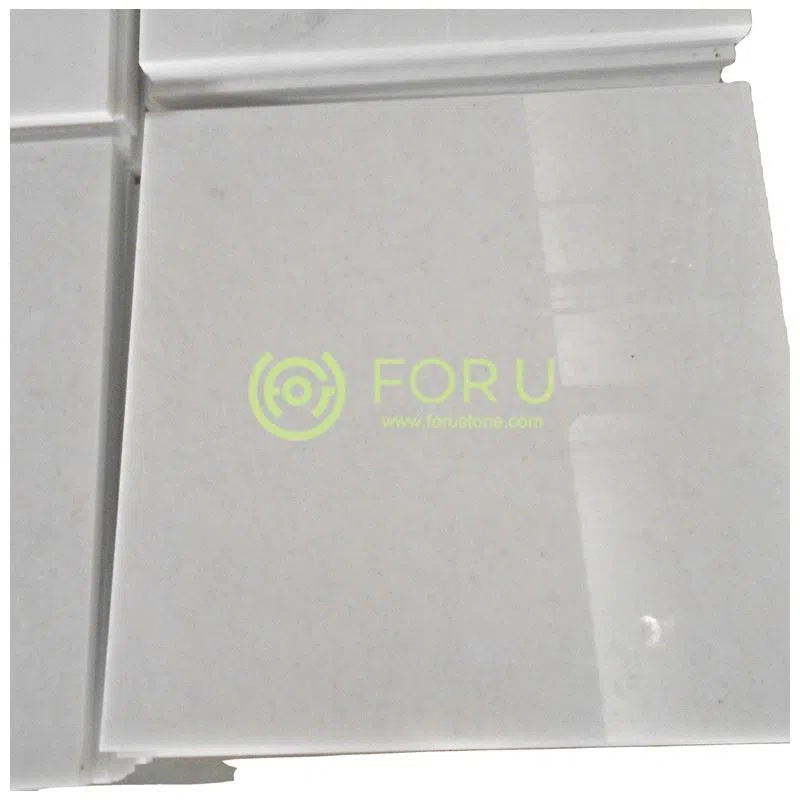 When looking for the best flooring for your home, school, office, or anywhere else, you always want durable materials. Hence, this Vietnam Pure Crystal White Marble Tile offers durability that no other marble can match. Vietnam Snow White Marble Tile is highly durable and adds a pleasing look to your home. This marble should be at the top of your list when it comes to durability.
Recommendations of White Marble Tiles | FOR U STONE
Speaking of pure white marble, in addition to Vietnam crystal white, another pure white marble is also popular in the market. It can compete with Vietnam's pure white marble. Thassos White Marble and Ariston White Marble are also welcome in interior decoration projects.
Thassos White Marble Tiles | FOR U STONE
-Thassos White Marble Slabs -Thassos Marble Tiles
Thassos White Marble is a very precious natural stone from Greece, characterized by very fine grains and a perfectly white color with no visible veins.
With its incredible elegance and clean appearance, white Thassos marble is used to decorate and enhance interiors in both classic and contemporary styles, including floors, stairs, paneling, ornaments, and accessories.
Thassos White Marble has excellent technical qualities in addition to its aesthetic qualities. Durability, strength, and moisture resistance are some of the reasons why it is used in kitchen and bathroom design projects.
Ariston Marble Collection | FOR U STONE
-Ariston White Marble Polished Slabs For Indoor Tiles -Ariston Marble Flooring and Wall Cladding Tiles
The Ariston White Marble originates from Greece and belongs to a kind of high-grade marble among the white building materials. Its color is as white as jade, with fine grains and pure white. It is inlaid with pure gray, with few lines and a natural texture. It is so charming that it is unimaginable. Just like the white clouds floating in the clear sky, people can not withstand the temptation. Beautiful and elegant, but soft, it belongs to a kind of delicate stone. Because the high-quality elegant white marble is the whitest of all stones. You can also use it for window sills, stairs, fountains, mosaics, countertops, floors, and indoor walls, but also pools as well.
Chinese White Marble Factory | FOR U STONE
FOR U STONE are a manufacturer, exporter, and investor specializing in the global stone industry, and an active participant in the stone market for over 15 years. And our company has an equity decorating company, and an equity quarrying resource, resulting in an enrichment of high-end spaces, from creative design, and custom stone to the overall construction.
Quality Control
Quality control

Polished degree: Above 85 degrees. For black granite, above 90 degrees.
Tolerance of thickness: +/-1mm

The price is the most competitive, and the quality is extreme.

More than 15 years of experience in stone industry manufacturing.
All inquiries and questions are to be replied to within 24 hours.
Washable and durable.
If you're interested in our crystal white marble tile, you are welcome to buy quality products at an affordable price with us. As one of the leading Marble Tiles manufacturers and suppliers in China, we also support wholesale service. For more info, contact us now.