Luxurious Pink Norwegian Rose Polished Marble Slabs For High-End Floor and Countertops Projects
Gracefully embodying a fusion of retro and gift-day aesthetics, the attraction of red Norwegian marble tiles has stood the test of time, maintaining their appeal over a long time. Extracted from the coronary heart of Norway, this Norwegian Rose Marble emanates a smooth, roseate air of mystery, suffused with sensitive white sun shades and subtle grey undertones. This Norwegian Rose Marble wall tiles or bathroom mosaic of natural dyes imbues any area with a compelling, visible appeal that elicits an air of class and grandeur.
From opulent furniture quantities to complicated indoor layout accents and robust flooring, Norwegian marble slabs have decided to use massive software in diverse residential and business areas. Its mild crimson tones lend an air of warmth to the interiors, even as its particular gray streaks testify to the dynamic forces of nature. This slight pink marble stone's beautiful splendor effortlessly transcends boundaries for any commercial and Real Estate Indoor Spaces.
Our newly unveiled Norwegian Rose Marble Tile embodies the charming beauty and talents that make marble a desired desire. This natural pink marble polished tile is not just a mere flooring or wall answer; it's a testament to beauty, a formidable declaration piece that effortlessly draws attention.
This rose Norwegian marble's superb smooth pink colors are showcased prominently at some point in each tile. It's a pattern of four enchanting mosaic designs, every outstanding spectacle in its proper. Conventional strategies, like Herringbone and Pickett, convey a traditional appeal to any vicinity, their acquainted systems imbuing areas with an undying aesthetic.
Pink Marble Sizes
White, Yellow, Brown, Red, Black, Light Grey, Medium Grey, Dark Grey, Green etc.

Slabs, Tiles, Skirting, Countertops, Vanity tops, Tread, Riser, Bar tops, Dining Table, Mosaic, Borders, etc.

1. Gangsaw slabs: 240up x 120up cm in thickness of 2cm, 3cm, 4cm, 5cm etc

2. Half Slabs: 180~240×60/70/80/90cm in thickness of 2cm, 3cm, 4cm, 5cm etc

3. Cut to size: 30x30cm, 40x40cm, 30x60cm, 60x6cm, 120x60cm etc

4. Tiles: 30.5×30.5x1cm, 40x40x1cm, 45.7×45.7x1cm

5. Countertops: 96″x26″, 108″x26″, 96″x36″, 108″x36″ or custom size

6. Vanity Tops: 25″x19″/22″, 31″x19″/22″, 37″x19″/22″, 43″x22″, 49″x22″, 61″x22″, 73″x22″

Flat Polished, Half Bullnose, Full Bullnose, 1/4″ angle, 3/8″ Round, Ogee, Dupont, Waterfall, Pencil, Miter edge, Chiseled Edge, etc

Polished, Honed, Flamed, Sandblasted, Chiseled, Bush Hammered, Pineapple, Water Jet.

Wooden Crate, Plywood Pallet, Carton, subject to materials.
Products Description
A Natural Pink Marble For High-End Interior Projects:
• On the other hand, the diamond sample of Norwegian Rose Marble Mosaic Tile is a contemporary marvel. Its complicated, enticing sample is a standout feature, ensuring it commands interest in any place it adorns. The hexagon sample movements have a pleasing stability between traditional and cutting-edge, and its bendy layout makes it an attractive desire for plenty of settings.
• Rose Norwegian pink marble Tiles not only exude beauty but additionally an understated radiance. Their moderate hue permits them to reflect mild, growing a luminescent impact specific to herbal marble. This luminosity and the lively splash of roseate shade breathe life into several regions. Contrasted with dark and light grey streaks that dance throughout every tile, the pink hue creates a fascinating visual spectacle that is impossible to copy with every other tile fashion.
Perfectly crafted for flooring, partitions, stairs, and columns, red marble tiles were a favorite choice for lodges, villas, mansions, and commercial enterprise homes. The attraction of this stone extends beyond its aesthetic appeal, presenting a protracted-lasting answer for excessive-tourist regions while keeping its fascinating splendor. A testament to nature's artistry, Norwegian purple marble tiles bring the majestic landscapes of Norway proper into the coronary heart of your architectural projects, transforming ordinary spaces into incredible spectacles of natural beauty.
Norwegian rose marble is currently one of the trending substances in indoor layout. Its soft crimson tones and unique grey accents have attracted attention in design. According to a document on Nest Casa, numerous pink marbles, collectively with Norwegian Rose and Aurora Rose, have lately become several of the most popular indoor layout remedies, showcasing the developing demand for this precise stone. The enchantment of Norwegian Rose Marble is such that it is used in more than just residential and industrial areas. Still, it has additionally been visible in extraordinary landmarks, including the stunning Duomo Cathedral in Florence.
Moreover, broader design tendencies are intensely aware of the harmonious integration of materials in interior and outside areas, a characteristic that Norwegian Rose Marble suits nicely. Its unique aesthetics can enhance the minimalist and natural factors embraced through popular design patterns, which include Japandi, a fusion of Eastern and Scandinavian design requirements.
Norwegian Rose Marble
Norwegian Pink Marble Slabs
Norwegian Rose Polished Marble Slabs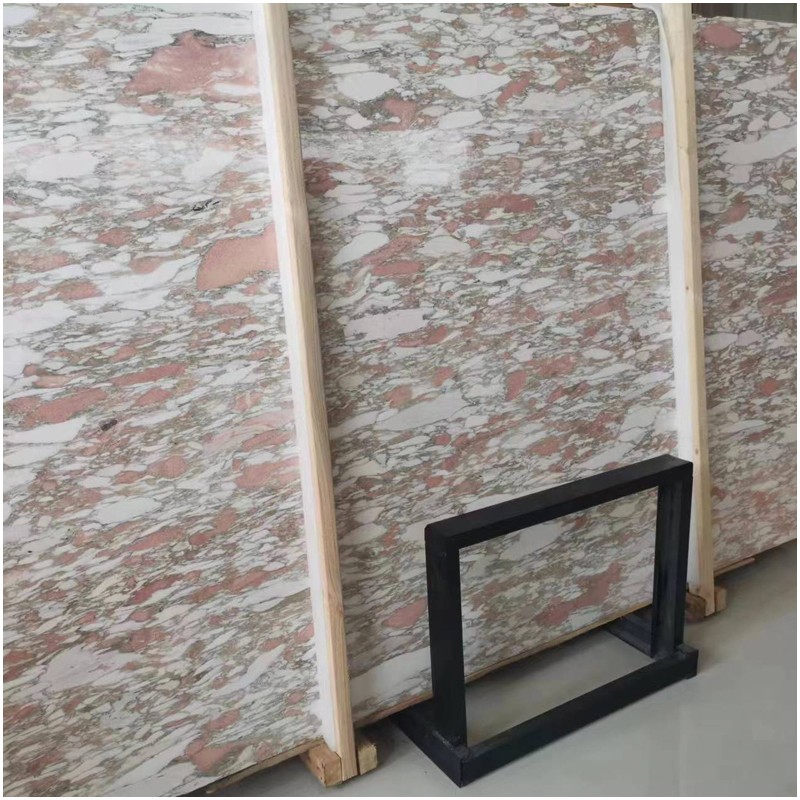 Rose Norwegian Marble
Professional Marble Slabs and Tiles Factory
At FOR U STONE, we are committed to delivering unparalleled excellence, fortified by our promise of competitive rates. Leveraging the expertise of our highly skilled professionals, we work diligently to minimize unnecessary expenditures, thereby ensuring optimal value for our clients.
Whether your project is expansive or compact, our dedication to your vision remains unflinching. Our primary goal is to facilitate complete customer satisfaction, and we tirelessly strive to bring your aspirations to life.
To consistently surpass client expectations, we at FOR U STONE are ceaselessly investing in enhancing our natural marble and granite products, advancing our technology, and developing our team. Our evolution is perpetual, promising an unwavering dedication to quality and service for our esteemed clientele.
Norwegian Rose Marble Slabs embody beauty and grandeur synonymous with Norway's landscapes. These tiles offer a great combination of aesthetics and functionality and testify to nature's exceptional artistry. As you pick out the rose-crimson marble tiles, you aren't simply selecting a stone but a slice of Norway's majestic allure, bringing its herbal appeal into your architectural areas.
.