Chinese White Wood grain Marble Flooring and Wall Facading Covering Tiles
Our white wooden marble tiles represent a sublime balance between natural beauty and modern design sensibilities. Much like a forest preserved in stone, these tiles display a range of white to dark grey hues, reminiscent of weathered wood. The veins within the marble echo the organic patterns of wood grain, lending a distinct character to each piece.
These patterns come alive in a multitude of settings, serving as both a remarkable statement piece or an understated complement to your interior decor. These Wood Grain Marble tiles breathe life into spaces such as kitchens, bathrooms, and living rooms, adding a touch of luxury and class.
–Reinventing Elegance with White Wooden Marble Tiles: The Art of Capturing Nature in Stone
ForU Stone prides itself on its commitment to quality and variety. Our wooden marble flooring tiles are available in various sizes to accommodate different architectural needs, from modest residential spaces to grand commercial structures. We offer cut-to-size tiles in the following dimensions: 12″x24″, 12″x36″, 18″x36″, and 24″x48″. This selection caters to both traditional and modern aesthetics, ensuring a perfect fit for any design vision.
Basc Information of Chinese Natural Marble
| | |
| --- | --- |
| Warranty: 3 years | Name: Wooden White Marble Tiles |
| After-sale Service: Online technical support | Stone Form: Cut-to-Size Project Tiles |
| Project Solution Capability: total solution for projects | Marble Name: White Wooden Marble |
| Application: Floor, Wall, Countertops, Stairs, Columns | Surface processing: Polished |
| Design Style: Modern | Grade: Grade AAA |
| Place of Origin: China | Usage: Villas, Private Houses, Hotels, and Office |
| Brand Name: FORU STONE | Size: Customised Size |
| Marble Floor Thickness: 10, 12, 16, 18, 20 mm | Material: 100% Natural Marble |
| Marble Type: Marble Tiles, Marble Flooring, Marble Paving Slabs | Marble Tiles Size: To Be Advised |
Natural Wood Grain Marble Tiles | Sizes Details | ForU Stone
Product Name:

Chinese White Wood Grain Marble Flooring Tiles

Applications:

boards, arts and crafts, Slabs, Tiles, Countertop, Vanity tops, Table tops, Columns, Baluster, Mosaic & Borders, Sculptures, Fireplace, etc.

Product Choice:

Dry-hangs, Cut-to-Sizes, Panels, Slabs, Tops, Sanitary, Blocks, Stair Steps, Paving, Curbs, Columns, Pillars, Tombstone, Sculptures, Tables, etc.

Big slab:

size(mm): 1500up*600, 2400up*650, 2100up*1200up, customization

thickness(mm): 16,17,20,30, customization

countertop:

size(mm): 1800*560, 2100*560, 2400*660, custumizationthickness(mm): 20, 30, customization

Vanity top:

size(mm): 1200*560, 1500*560, 1800*600, customization

thickness(mm): 20, 30, customization.

Stair Step:

size(mm): L*457, L*330, L*250, L*200, customization

thickness(mm): 20, 30 , customization .

Mosaics:

size(mm): 650*150, 350*180, customization

thickness(mm): 10-20, customization

Package:

Wooden Crate, Pallet, Carton & Foam are the common Packing Material. However, different products, different packs & different packs have different costs.
Photos | Wooden Marble Flooring Tiles | ForU Stone
Our wooden white marble tiles are not just confined to indoor applications. They are equally suited for outdoor usage, making them a versatile choice for residential and commercial projects alike. Whether you envision them for an elegant patio, a sophisticated living room floor, or a spa-like bathroom, the possibilities are virtually endless with our wood grain marble tiles.
Our wood pattern marble tiles blend tradition with innovation, perfectly encapsulating the rich history and prestige of marble usage in architecture while introducing a new twist on a classic material. This unique blend of organic and refined elements sets our tiles apart, creating a truly unique and timeless aesthetic.
With a large manufacturing base and a rich history, ForU Stone ensures that our white wooden marble floor tiles meet the highest industry standards. We extend our expertise and craftsmanship to every piece, delivering products that embody durability and grandeur.
For U Stone's wood grain marble tile is a true testament to the timeless allure of nature and the enduring elegance of marble. We invite you to transform your spaces with these exquisite tiles, where the beauty of wood meets the grandeur of marble. With our commitment to quality and innovation, we guarantee a product that is as enduring as the trees that inspire their design and as timeless as the stone from which they are crafted.
Experience the unparalleled elegance and sophistication of ForU Stone's wooden marble floor tiles. Let nature be your muse, and let our tiles transform your spaces into a testament to the beauty of the natural world.
Wooden Marble Flooring Tiles
Wood White Marble Floor Tiles
Wood Grain Marble Wall Tiles
Wooden White Marble 24"x12" Tiles
Discover the sublime artistry of ForU Stone's white wooden marble tiles. These unique offerings merge the rustic charm of wood grain patterns with the elegance of marble. Ideal for both indoor and outdoor spaces, these versatile tiles will transform any setting into a realm of natural elegance and timeless design.
Quality Control | Chinese Serpegiante Marble Slabs and Tiles | ForU Stone
Quality Control
1) Surface polished 90° up by the auto-polishing machine.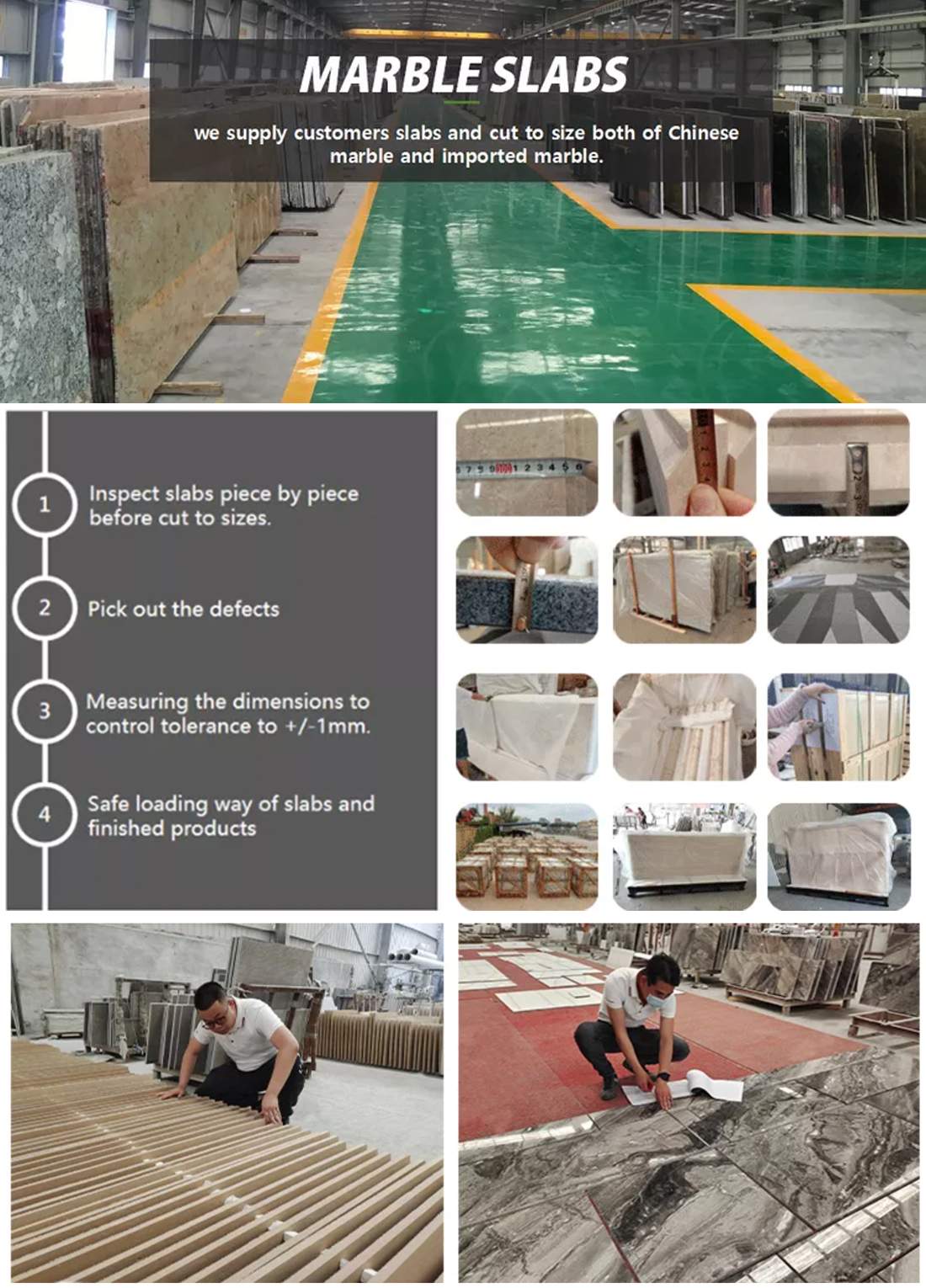 2) Thickness tolerance: -1/+1mm or -2/+2mm.
Package: Fumigated wooden crates.
An Experienced QC will inspect all products before the package.
FAQ: Why Choose ForU Stone
We have specialized in granite & marble prefabricated products for more than 20 years, providing solutions to over 50,000 projects so far. Our lines include commercial, residential, hospitality, retail vanity tops, and more. Our collections range from slabs, countertops, vanity tops, cut-to-size tiles, stair panels, window sills, and stone vessels to porcelain sinks, and more.
Our advantages:
We are familiar with the project layout, which will save you time from the dull and dry work.
We are good at box-vanity-top which passes the drop test so that you can express directly to your customers and save you from worrying about the safety of transportation ever.
We can assemble the vanity, vanity top, sinks, and faucets and ship them as a whole.
Custom-made and OEM are available
We assure a 10-15 day delivery time for a MOQ of 20 GP
Most of our porcelain sinks are certified with CUPC
We have ISO9001-2000 approval.
We depend on our aggressive workers, teamwork, competitive quality, service, homey corporate culture, and focus on details in search of excellence. We are proud of them.
Embrace nature's elegance with ForU Stone's white wooden marble tiles. With intricate wood grain patterns and superior craftsmanship, these tiles are a unique blend of rustic charm and modern sophistication.
If you're interested in our wooden marble tiles, welcome to buy the quality products at an affordable price with us. As one of the leading Marble Tiles manufacturers and suppliers in China, we also support wholesale service. For more info, contact us now.