Azul Bahia Blue Granite Slabs For Countertops and Hotel Wall Projects
Azul Bahia Granite, sometimes referred to as Blue Bahia or Brazilian Blue, is a stunning natural stone quarried in Brazil. Its unique and vibrant blue tones, reminiscent of the ocean, set it apart from other granites, making it a highly sought-after material for high-end interior projects.
Azul Bahia Granite Slab is a semi-precious stone sourced from a bedrock quarry in the Brazilian state of Bahia. The stone's rich blue color varies in intensity and texture between blocks, often appearing close to navy blue. Some slabs may also feature hints of green, reflecting the natural variation inherent in this exclusive stone.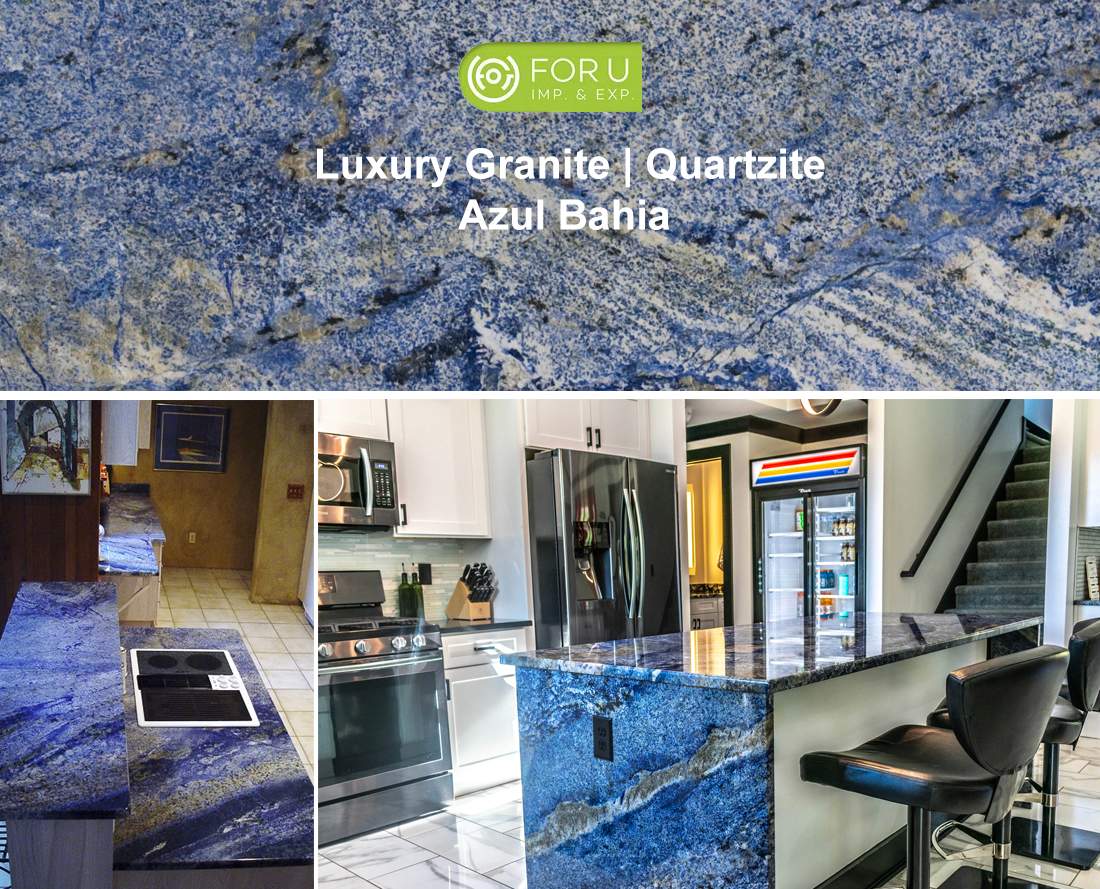 Pairing Blue Bahia Quartzite with crisp white cabinetry and other design elements can create a nautical and sophisticated look. The stone's deep blue color serves as an elegant and refined anchor in any design scheme.
Azul Bahia Granite vs. Quartz
When choosing between Azul Bahia Granite and quartz countertops, several factors come into play. Polished granite slabs have long been popular for their natural beauty, while leathered granite is gaining traction as a more affordable alternative. Quartz, on the other hand, offers a consistent appearance and requires less maintenance than granite.
While quartz may be more practical for some homeowners, Granite blue bahia slab's rarity and natural beauty make it a true luxury choice for those seeking a statement piece in their interior design.
| | | | |
| --- | --- | --- | --- |
| Stone Name: | Azul Bahia Granite Slab | Brand Name: | Xiamen For U Stone Imp. & Exp. Co., Ltd. |
| Place of Origin: | China | Model Number: | Azul Bahia Granite Slab |
| Surface Finishing: | Polished | Application: | Indoor outdoor decoration acts |
| Thickness: | According to your requests | Colors: | Green |
| Packing: | Fumigate Wooden Crate | Surface: | Bush Hammered Flamed Honed Polished |
| Stone Form: | Big Slab, Cut-to-Size | Material: | 100% Natural Granite |
| Granite Density (kg / m³): | 2.65-3.0 | Keywords: | Ubatuba Green Granite |
Luxury Blue Granite Stone Slabs
Azul Bahia Granite's exquisite appearance and rarity make it an ideal choice for various applications in both residential and commercial interiors. Its potential uses include:
Countertops: Azul Bahia Blue Granite's eye-catching color and durable nature make it an excellent choice for kitchen and bathroom countertops, adding a touch of sophistication to any space.

Floors: The stone's captivating hues and luxurious appearance make it a perfect flooring material for high-end interiors, creating a stunning foundation for any room.

Walls: Azul Bahia Granite Tiles can be used to create mesmerizing feature walls or as a unique and stylish backsplash in kitchens or bathrooms.

Fireplaces: The stone's vibrant blue tones provide a striking contrast when used to clad fireplace surrounds, adding an elegant focal point to living spaces.

Vanities, tub surrounds, and showers: Azul Bahia Granite Countertops' beauty and durability make it an ideal material for bathroom vanities, tub surrounds, and shower enclosures, creating a serene and opulent atmosphere.
The Blue Bahia Quarry has recently closed, making Azul Bahia Granite even rarer and more exclusive. It is now uncommon to find new slabs of this precious material, with only a limited number of remaining slabs from past extractions available.
Azul Bahia Granite is an exceptional natural stone that offers an unmatched touch of luxury for high-end interior projects. Its vibrant blue hues and rarity make it a highly prized material for countertops, floors, walls, and other applications. For those seeking an exclusive and striking design element, Azul Bahia Granite is an unparalleled choice that will leave a lasting impression.
Products Description
Quality Control
For different products, we have different packing methods. Wooden or plywood, crating or pallet, etc.

We do careful packing and detailed shipping marks on each package, ensure all goods reach you safely and complete.
We control every single processing strictly with computer and manpower.
After shipment, we will send documents to you according to your requirements, and keep you updated about container status.
Packing and Loading about Azul Bahia Granite Slab
(1) Slab: Seaworthy wooden bundles;
(2) Tile: Styrofoam boxes and seaworthy wooden pallets;
(3) Vanity tops: Seaworthy strong wooden crates;
(4) Available in Customized packing requirements;
All the above packages will be fumigated stamped for export order;
2cm slabs: 15-18 pcs / 75 sqm / 4100kgs per bundle
3cm slabs: 10-13 pcs / 50 sqm / 4100kgs per bun
15 ~25 days after order confirmed
30% in T/T to confirm order, rest 70% to be paid against copy of B/L
FAQ
Q.How much breakage should I expect with an order?
A. It is not unusual to have 2% – 3% of the tile broken. Any amount up to 10% is still considered acceptable. These damaged tiles can be used for the cuts you will need to make. If breakage is above 10%, we would ask you to have it noted on the logistics receiving document and take pictures. Please make a claim with us within 10 days of receiving the order.
Q.Can I purchase just one box of tile before I place my full order?
A. We're unable to sell individual boxes of tile due to shipping costs. The cost to safely ship one box of tile can be more than five times the amount of the actual tile.
To see our tiles in person before you buy, check out our free sample. We'll send you free samples right to your doorstep.
Q.Can you make custom colors?
A. Yes, we can match and OEM most colors and designs.
If you're interested in our azul bahia granite slab, welcome to buy the quality products at an affordable price with us. As one of the leading Granite Slabs manufacturers and suppliers in China, we also support wholesale service. For more info, contact us now.